Tree Trimming and Pruning
Tree Trimming Services for Tigard, Tualatin, Sherwood & the greater Portland Metro​
Tree Trimming and Pruning Services for Tigard, Tualatin, Sherwood & the greater Portland Metro
What is the difference between trimming and pruning?
While the words are sometimes used interchangeably, trimming and pruning serve different purposes. Pruning focuses mainly on the current health of the tree, removing any dead, diseased or infected areas. Trimming may include the removal of both unhealthy and healthy branches and foliage with the purpose of stimulating growth. Regular trimming and pruning keep your trees luscious and healthy.
Pruning is important for health and safety as well as to keep trees looking their best. Pruning may be the only treatment necessary to revive a seemingly unhealthy tree. Pruning to remove deadwood, diseased or insect-infected wood can often be enough for your tree to thrive.
Regular trimming and pruning can increase your tree's ability to take in more sunlight and airflow, resulting in a stronger, healthier tree. It will look better and be less likely to be damaged by extreme weather or other natural elements.
Trimming and pruning can also be done purely for aesthetic reasons. Deliberate trimming can change the shape of your tree, enhancing its natural form. It can also open up your tree to stimulate the production of new flowers and foliage.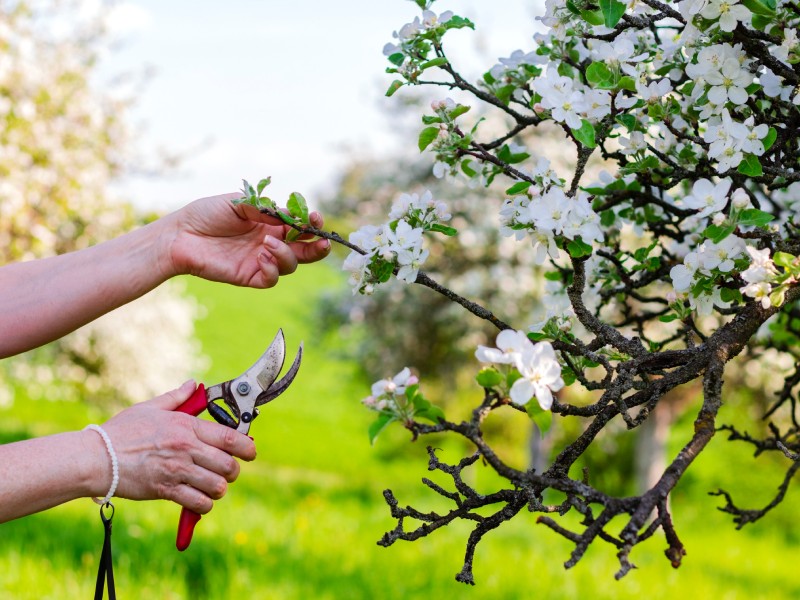 Trimming and Pruning or Safety
Pruning trees for safety generally involves removing branches that could fall or become overgrown, potentially causing injuries or property damage. Some examples include:
"Absolutely wonderful! Came in, protected plants and sprinklers, worked non-stop to do the job. Did a beautiful job of dropping branches and the tree limbs. Chopped wood and stacked it, took away all the branches and raked, used a blower to clean up and were very pleasant. A very professional job. We have already recommended them to our two neighbors. 5 Star service for sure!"